Fall 2019 Newsletter
Welcome to the inaugural issue of the A.P. Giannini Foundation's newsletter!  We are excited to highlight the work of the fellows and to share what's going on at the Foundation.  We look forward to an ongoing dialog.
Mark Perry, Chairman of the Board
A.P. Giannini Foundation
Honoring A.P. Giannini on his 150th Birthday
Who was A.P. Giannini?
Why did he start a foundation?
How has the foundation evolved over time?
Amadeo Pietro (A.P.) Giannini was the son of Italian immigrants who founded the Bank of Italy in San Francisco in 1904. At the time, banks served only wealthy clients, but Giannini turned banking on its head and made small loans to laborers and immigrant communities. Serving the needs of the working class, Giannini expanded his bank to over 500 branches across the state of California. In 1928, the Bank of Italy merged with the Bank of America, and Giannini served as chairman until his retirement. Dubbed the "Wizard Banker from California," Giannini was as popular a businessman as Henry Ford.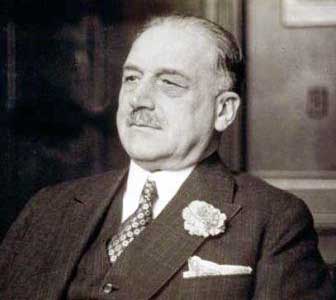 Despite his overwhelmingly successful career, Giannini was not motivated by creating more wealth. He lost his two sons to hemophilia, a genetic disorder in which blood does not clot properly. Giannini was deeply committed to promoting the discovery of treatments for human diseases to alleviate human suffering. On his 75th birthday, in 1945, Giannini created and endowed the A.P. Giannini Foundation with a gift of $500,000 to support innovative research in the basic sciences. Since its inception, the Foundation has distributed more than $40 million to support more than 950 postdoctoral biomedical researchers at California medical schools.
The A.P. Giannini Foundation Today
Today, the Foundation awards 7 to 10 new fellowships each year on a competitive, peer-review basis and funds fellowships for up to three years. Recent awards support research in embryonic development, Parkinson's and Alzheimer's diseases, autism, fertility issues, cystic fibrosis, melanoma, Hepatitis B, diabetes and prostate cancer.
In recent years the fellowship has morphed into a robust career development program. In 2013 the Foundation launched an annual colloquium that brings together current and former fellows for career mentoring and networking. Alumni speak on panels and share the paths they followed to land their current jobs in academia, pharmaceutical companies, biotech firms, government agencies and research centers.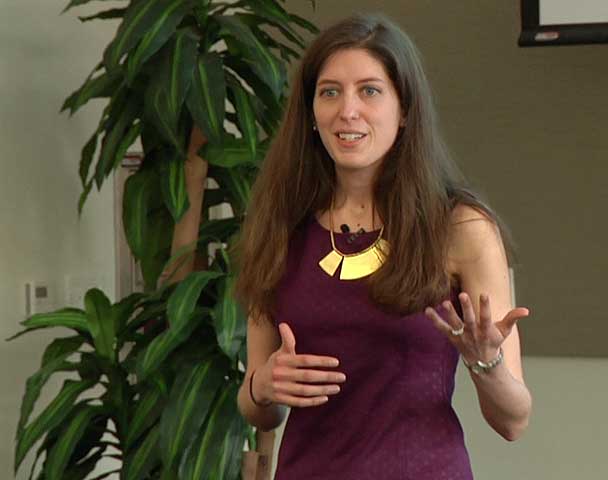 A year after implementing the annual colloquium, the Foundation began offering communications training to fellows. New award recipients meet monthly with a communications consultant for 30-minute sessions over the course of six months. The goal of the program is to enable fellows to talk about their research with a lay audience. At the end of the training, first-year fellows present their research at the annual colloquium. Videos of these presentations are available on the Foundation's website.
In 2018, the Foundation added a leadership development component to its award. In the fall, the Foundation brings together second year fellows for two days of leadership training. As a result of their participation, fellows report feeling equipped with skills to effectively manage diverse teams of scientists and collaborators.
In honor of A.P. Giannini's 150th birthday on May 6, 2020, the Foundation is launching a fundraising campaign to support the career development components of its fellowship program. Our goal is to establish an endowment to support the annual colloquium and communications and leadership programs in perpetuity. If you are interested in supporting the Foundation's career development award program, please contact us at .
Lauren Albrecht, Ph.D.
Lauren Albrecht earned her Ph.D. in cell biology at the Feinberg School of Medicine at Northwestern University.  Her postdoctoral research is being conducted in the laboratory of Dr. Edward DeRobertis at UCLA. Dr. Albrecht is focusing on Wnt signaling, which plays an important role in the development of normal cells. When cells are abnormal, Wnt signaling can be associated with lethal cancers such pancreatic, liver, and breast cancer.  Through her research, Dr. Albrecht hopes to identify new ways of targeting irregular Wnt signaling as a strategy for treating cancer.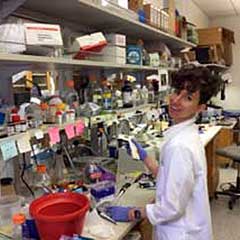 Christopher Bartley, M.D., Ph.D.
Christopher Bartley earned his M.D. and Ph.D. in neurobiology at Yale University.  Dr. Bartley is carrying out his postdoctoral research in the laboratories of Drs. Sam Pleasure and Michael Wilson at UCSF.  Dr. Bartley is interested in autoimmune psychiatry. An increased prevalence of autoimmune disease exists in many psychiatric disorders ranging from schizophrenia to post-traumatic stress disorder, but whether specific antibodies contribute to mental illness is unknown. Dr. Bartley's research seeks to identify a set of brain-targeting autoantibodies and to understand how they cause disease.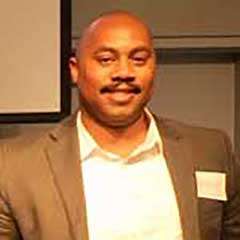 Kristen Berendzen, M.D., Ph.D.
Kristen Berendzen earned her M.D. and Ph.D. in neuroscience at UC San Diego.  Dr. Berendzen is carrying out her postdoctoral research in Dr. Devanand Manoli's lab at UCSF where she studies aging and neurodegeneration.  Dr. Berendzen seeks to understand the neurobiology of social cognition deficits in frontotemporal lobe dementia (FTD).  She works with prairie voles, a monogamous rodent species that form life-long pair bonds, in order to better understand the basic biology of social attachment and how it becomes disrupted in disease.  Her findings will provide insight into how social cognition responds to aging and disease.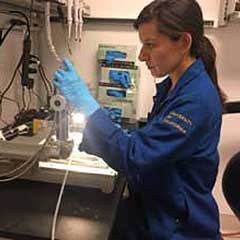 Ryan Morrie, Ph.D.
Ryan Morrie holds a Ph.D. in molecular and cell biology from UC Berkeley and is carrying out his postdoctoral research in Dr. David Julius' lab at UCSF.  Dr. Morrie's research seeks to identify the molecular mechanisms responsible for establishing and maintaining sensory signaling in the gut. He focuses specifically on one type of gut sensory cells, the enterochromaffin cells (EC cells).  The goal of Dr. Morrie's research is to understand how EC cells communicate to the rest of the body about the presence of harmful compounds in the gut. Therapeutic targets could then be identified to alleviate disorders of gastrointestinal motility (constipation), secretion (hormone imbalance), and sensation (pain).
David Snead, M.D., Ph.D.
David Snead earned his M.D. and Ph.D. in biochemistry from Cornell University.  He is carrying out his postdoctoral research in the laboratory of Dr. Samara Reck-Peterson at UC San Diego. Dr. Snead's research aims to understand the molecular basis of Parkinson's disease.  Mutations in the LRRK2 gene are known to cause cells to die, resulting in Parkinson's disease, but it is unclear at the molecular level why this occurs. Dr. Snead is examining how the structure of LRRK2 enables it to perform its normal function while also studying how its mutations can cause Parkinson's. This work will ultimately facilitate the design of better drugs targeting LRRK2 as a potential novel treatment approach for people suffering from Parkinson's disease.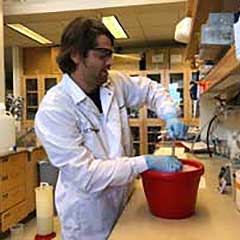 Ben Wendel, Ph.D.
Ben Wendel earned his Ph.D. in chemical engineering from the University of Texas at Austin. Dr. Wendel is carrying out his postdoctoral research in the laboratory of Dr. Mark Davis at Stanford University where he seeks to understand what triggers myalgic encephalomyelitis/chronic fatigue syndrome (ME/CFS) and the role that the immune system plays in propagating ME/CFS symptoms. Understanding what is causing ME/CFS will be an important step towards finding a cure for fatigue syndrome.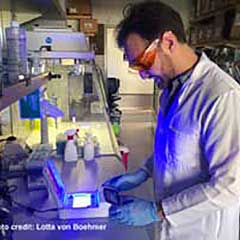 Ruby Yu, Ph.D.
Ruby Yu earned her Ph.D. in biological and biomedical sciences at Harvard Medical School.  Dr. Yu is carrying out her postdoctoral research in the laboratory of Dr. Alexander Marson at UCSF where she studies the molecular processes that regulate gene expression and human disease.  The goal of Dr. Yu's research is to understand how non-coding genetic information directs critical cellular processes and how irregularities in these sequences can lead to disease.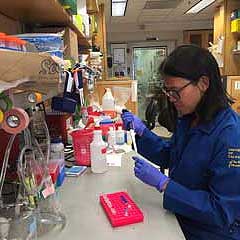 Crossroads: At the Intersection of Research and Medicine
A video series highlighting the research of A.P. Giannini Fellows
Awards and Promotions
"Just wanted to let you know about a success I had thanks to our communications coaching. Recently, the post-doctoral associations of all the schools in Los Angeles decided to have a city-wide post-doc symposium, and they put out a call for people willing to give an 8-minute "Ted-style" talk that would be accessible to post-docs from any field of knowledge. They gave out awards to the top three speakers, and I won first place!  This is a tangible point where the development opportunities offered by the Foundation made a clear difference for me."
Emily Mankin, Ph.D.
A.P. Giannini Fellow 2017
Postdoctoral researcher, UCLA Geffen School of Medicine
Fellows' Recent Awards and Appointments
Janai R. Carr-Ascher, M.D., Ph.D.
2017 Fellow
Assistant Professor in Residence at UC Davis School of Medicine
Melinda Diver, Ph.D.
2017 Fellow
Awarded an NIH K99/R00 Pathway to Independence Award
Daniel Keedy, Ph.D.
2015 Fellow
Assistant Professor, Structural Biology Initiative, CUNY Advanced Science Research Center
Lisa Kronstad, Ph.D.
2015 Fellow
Assistant Professor, Midwestern University
Cressida Madian, Ph.D.
2016 Fellow
Assistant Professor of Molecular Biology at UC San Diego